Do you have a feeling your business should be online but have no clue where to start? Or maybe you're struggling to measure the exact value of online marketing when your customers are coming to you through other channels.
Either way, you're not alone.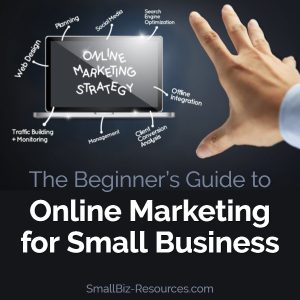 According to a 2018 survey by Clutch, 36% of small businesses don't have websites. The top reasons range from not seeing the need for one in their specific industry (27%) to concerns over cost (26%).
If your business has traditionally relied on word-of-mouth or print advertising, it might seem unnecessary to venture into online marketing — and the costs or efforts associated with it. Yet more and more businesses, including those in industries like manufacturing, construction, and hospitality that have been slow to adapt to digital technology, are recognizing the relevance and even necessity of online marketing in the digital age.
So if you're wondering if you should market your products or services online and how to do it in a way that will bring in more customers without breaking the bank, you've come to the right place. The following are beginner strategies and answers to some of the top questions small businesses have when it comes to online marketing.
How can I build a website, how much will it cost me, and what can I really get out of it?
Today, a business website is often the equivalent of store space. Without it, it's like your business doesn't even exist. You might even have a website already because you've heard you need one, but you're not sure what you can get out of it.
The reason a website is so crucial to online marketing is that it plays a critical role in your business appearing in search results. That's why even if your business is active on social media, you still need a website and SEO practices in place so people can find you.
Here's an analogy to illustrate the importance of SEO (search engine optimization). Let's say your store is in an alley that's easy to miss. The first thing you want to do is to create a sign on the main street pointing customers to your store. This lets them know that your store exists and how to get there.
It's the same thing online. Your website will be easy to miss if it doesn't show up on search engines like Google.
The worst-case scenario for businesses without a website is that customers in your area who are looking for services or products you offer will go to your competitors simply because they appear in the search results and you don't (or they appear first in the results while your website is buried in the competition).
The good news is that creating a well-designed website is as easy and cost-effective as it's ever been. Thanks to website builders like Wix, Weebly, and Squarespace, businesses can create a website for as little as $144 a year. These services are simple enough for anyone to use that you can even make it yourself without hiring a professional web designer.
If you have a website already but you're not getting a lot of traffic, it's probably because you're not actually showing up in search results. This is like having a store that no one visits because it's difficult to find. Research from BrightEdge shows that 51% of all web traffic comes from organic search, with 40% of total revenue traced back to organic search as opposed to other means like paid search or social media ads, etc.
If your competitors are doing a better job of getting their websites on the first page of Google's search results, they'll be more visible to prospects. It's like their store is on the main street where there's a lot of daily foot traffic — while your store is out of the way for most people.
Why should I join social media, how many platforms do I need to be active on, how frequently do I need to post, and how much time does it take to maintain?
The number one reason you want to join social media is to connect with your prospects and customers. This isn't to create viral posts or to pull fancy marketing stunts — it's to reach your people where they are.
This intimacy that's available on social media is why social selling is so effective — up to seven times more effective than trying to close a deal through other means. But don't try to do too much. Optimizing one platform where your customers are likely to hang out is more effective than spreading yourself thin across Instagram, Facebook, LinkedIn and Twitter.
To pick the right channels, think about the nature of your business. Do you sell or offer services where appealing visuals would help attract customers? For instance, posting photos of beautiful hairdos on Instagram can help market a salon while posting an article about effective management in manufacturing on Twitter could help build trust for a consulting business.
As a rule of thumb, companies should be regularly active on social media for it to be effective. For this reason, it's better to do one platform well than try to manage five different accounts that end up being inactive because you simply don't have the bandwidth for them all.
Equally importantly, the posts that you do publish should be of high quality. This includes posting not only visually appealing images, but also descriptive copy and captions, as well as hashtags that are relevant to your followers and customer base. The more you can connect with your customers and open up an engaging conversation, the better your posts will perform.
How do I make sure my online marketing efforts are reaching the right audience?
This might be the number one question small businesses ask when considering online marketing. Of course, online marketing has a huge potential to reach a wider audience, but if that audience isn't interested in your product, what's the point?
Thanks to tools available today, like Facebook Ads and Google My Business, there are ways to target the exact audience you want to reach so that your online ad spend and other investments give you maximum bang for your buck. Taking advantage of those tools is the best way to make sure your online marketing efforts will actually pay off — rather than just putting something online and hoping for the best.
Online marketing for small businesses doesn't have to be complicated.
Most small businesses don't have the resources to launch into a full-scale online marketing operation, but online marketing can be as basic (or advanced) as you want it to be.
What's important to remember is that even with these simple steps listed above, you can already make a huge impact on your business' presence online.
In essence, creating a strong online marketing program helps you reach your customers where they are and communicate with them one-on-one, and gives you a visible presence for prospects to discover you. For resource-strapped businesses, it's a small investment that pays off big long-term — which is what a good deal is all about.