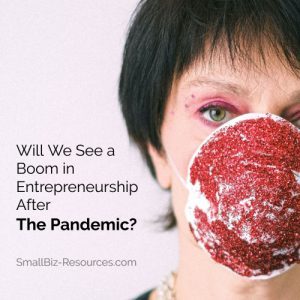 In the months and years following the pandemic, our world will certainly see some changes. The weeks we've spent in lockdown have had drastic changes on our lives already. We've made adaptations to the way we live, work and play and have had considerable time to think about how we'll enter into a new way of life. 
On the entrepreneurial front, crises have been pivotal in developing our societies. Past pandemics have shaped our health-care systems, wars have spurred technological innovations and financial crashes have advanced tech companies like Airbnb, Paypal and Uber. 
Whilst we can't say for certain, entrepreneurs of today are likely to rise to the post-pandemic challenge and generate a boom entrepreneurial spirit. 
Time to Plan 
If nothing else, the time we've spent indoors have given bright minds time to generate business ideas that will no doubt be warmly received by investors who will be itching to get back into the startup scene. Funding a startup business from the ground up can be challenging. For those work-from-homers, life under lockdown has meant that we retain a lot of our disposable incomes. Its's a prime time to start bootstrapping your business idea by investing your own savings into generating a profitable business model.
New Demand
A new standard of living will give rise to increased demand for products and services previously neglected in the market. For example, as we make staggering developments in the remote work market, the demand for home office equipment, digital communication channels and home entertainment will spike. Following demand, comes a surge of innovative solutions. 
Shuffled Resources 
Many firms have already responded to the crisis not only by cutting costs, but also engaging in new entrepreneurial activity. Around the world, established companies have been redirecting resources to manufacture and supply the goods and services most in demand. 
Distilleries across Europe, America and Australia have started to produce hand sanitizers. Fashion houses like Burberry, Zara and Hedley & Bennett are manufacturing protective equipment and gowns for hospitals. 
Notably, automotive and car brands like Ford and Mercedes F1 have stepped up to the plate to have addressed the shortage of ventilators in hospitals to produce life-saving machinery. But what does this mean for entrepreneurship after the pandemic? Companies are demonstrating citizenship by giving up short-term profits for the benefit of a collective society, and are showing resourcefulness by tackling challenges with scarce resources. As such, we can expect to see a boom in socially aware entrepreneurship after the pandemic.
A Skilled Unemployment Pool 
A less positive note, but no less opportunistic is the number of people who have been made unemployed during the crisis. Companies have had to close down and lay off workers. A wave of talented, skilled and experienced workers have just entered into the unemployment pool. Some will switch careers and others think about starting their own business. Typically, startups launched during a downturn tend to be far more durable and resilient than those started in a better economic time. We can anticipate a boom in entrepreneurship as they redirect their skills and business experiences in a new direction.  
The need for sanitation, cleanliness and general hygiene across all industries is likely to attract massive attention from those experienced in the field. Testing and application of makeup and beauty products will need to change. A global demand for janitorial services will rise, generating an additional need for continuous cleaning at a new level. 
In the textiles and fashion industry, we can expect a boom in the design, manufacturing and supply of stylish protection. Face masks have been worn long since COVID-19 in Asian capitals like Beijing, Tokyo and Hanoi. Not least in Western Europe as a fashion statement initiated by brands like Supreme. The mounting threat from the novel virus will convince more people globally to wear them. One might anticipate a boom in 'stylish' facemasks over the next 12 months as they're incorporated into the uniforms of many big brands. 
Fresh Minds 
By the end of this year, the global economy will see a wave of recently graduated academics with a better understanding of life after the peak of the pandemic. From all disciplines, graduates will enter into the workforce with a refined appreciation for how they can contribute to society. Whilst entrepreneurship doesn't necessarily entail higher education; graduates of many fields including business, economics, the sciences and the arts, will have all the relevant theoretical knowledge and be ready to put it into practice. 
As we face this global challenge, there is evidence to suggest that as it comes to an end, we'll be warmly receiving a wave of socially conscious entrepreneurs. We can expect innovation in the sanitation and cleaning industries as well as new players in the home entertainment market, joined by developments across textile and manufacturing industries and more. 
Other Small Business Advice You Might Enjoy