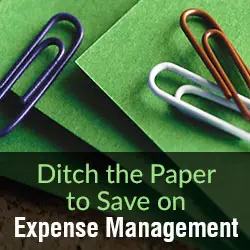 Every business is looking for the best ways to cut costs while maximizing profitability, and technology and automation are often the key ingredients to greater efficiencies. Today, almost any business operation can be affordably performed on mobile, saved on the cloud and shared digitally anywhere in the world.
Unfortunately, one area where many small businesses appear to be stuck in the technology dark ages is expense management. In fact, a survey of Small Business Financial Decision Makers revealed that businesses' expense management solutions still lean heavily on manual methods that contradict employee needs and compromise overall profitability.
In the survey, conducted by Concur, the leading provider of expense management solutions and services, seven out of 10 small businesses said they do not currently use expense management software. SMBs continue to use a combination of outdated expense methods:
38 percent rely on paper-based submissions
26 percent use corporate cards
23 percent use Excel to track expenses and cash flow
Relying on manual systems may seem harmless and appear to provide cost savings upfront, but in reality SMBs are leaving money on the table when it comes to expense management.
As you can guess, the most significant expense management cost is employee time. Manual processing requires dedicated time and attention of multiple employees from start to finish – each representing an opportunity cost in productivity that may cumulatively affect businesses' bottom-lines.
Automating Expense Management Process
Automation is truly the way to go. The following reveals how automating your expense management processes can help save time and money:
Companies whose employees use mobile expense reporting and travel apps for corporate travel save an average of 4.5 hours a month – that's an entire weekevery year, according to the report "Your 2013 Guide to Travel and Expense Management," by the Aberdeen Group.
Expense automation decreases the cost of expense claim transactions by 75 percent or more1, and reduces the time required to process expenses by 35 percent.2 In practice, that means an automated expense report that practically writes itself costs $7.91 to process compared to $17.87 without expense management software. Those figures represent savings of over 55%.3
According to research firm Ardent Partners, the key differences between long-term success and failure for SMBs experiencing rapid growth are how well they manage cash flow, and the infrastructure they have in place to support their growth.
A good first step is to upgrade your business tools from outdated to automated. This is the best way to reduce costs, boost bottom-lines and give back time so you can focus on creating profits rather than accounting for costs.
Don't put off expense automation. Having complete visibility into your company spending will help you plan for the future, manage your cash flow, and assist in maintaining compliance. If you're stuck staring at endless spreadsheets, you won't have the time to see the big picture and focus on what really matters – your business.
[1] Aberdeen Group research 2011
[2] Aberdeen Group research 2009
[3] The Power of Real-Time Insight: How Better Visibility, Data Analytics, And Reporting Can Optimize Your T&E Spend, Forrester Consulting on behalf of Concur, May 2014
Other Small Business Advice You Might Enjoy