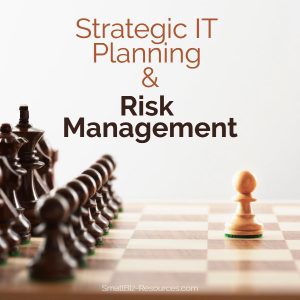 Computer systems and networks face a barrage of threats, more so from malicious actors such as hackers. The information technology infrastructure that you have put in place goes a long way in determining your company's success. IT systems and equipment are involved in the day-to-day operations of your company, and therefore, carry some significant risks.
Strategic IT planning and risk management entails applying risk management strategies to your IT infrastructure to manage risks that are inherent in that environment. To achieve this, you must first assess the risks that result from the ownership, use, adoption, and operation of your company's IT infrastructure which can be done with a risk assessment matrix.
How Do You Undertake IT Risk Management?
Thanks to technological development, almost everyone has access to the Internet. This includes malicious individuals who may want to intrude your IT systems to steal data, and for other selfish reasons. Although strategic IT planning and risk management can help you thwart such attempts, the main challenge that you face is implementing a risk management strategy.
To achieve this, you first need to identify the risks that your IT infrastructure face. In this regard, you should bear in mind the fact that you cannot adequately prepare for an IT risk without figuring it out first. Ask yourself where and when the risk might arise. This will help you prepare for it. Once you've identified potential IT risks that you face, you should analyze them to determine the impact that they might have.
Evaluating and ranking IT risks enables you to develop a strategy for controlling them. After that, if the risk becomes a real issue, you will cease to operate in the theoretical space. Instead, it will be time for action. Once you take measures to manage an IT risk that has morphed into a disaster, you should track it to review the progress that you are making.
Pertinent IT Planning and Risk Management Strategies
Your company needs to have a structured approach that will help you to identify, monitor, and manage IT risks. IT risk management strategies can be avoidance, transference, mitigation, and acceptance in nature.
When it comes to mitigating and managing IT risks, you must know how to apply safeguards. This is an avoidance strategy that helps you avert IT risks. Similarly, you need to find ways of transferring risks once they become a reality. This could entail transferring risks that you face to another entity.
The mitigation strategy for managing IT risks entail reducing the impact of the risks. This means using the available resources and teams to ensure that the risk does not halt your company's operations. On the other hand, the acceptance strategy involves accepting IT risks as reality once they occur. This way, you will be able to deal with them immediately if they recur.
When managing IT risks, you should keep these three best practices in mind.
1. Early and Regular Evaluation is Important
There isn't a better time for you to implement your IT risk management process. You have to remember that managing risks is a continuous process and something that you ought to do as long as your company is operational. The earlier you begin, the better you get at it. Regular evaluation puts you in a better position to manage your risks.
2. Incorporate Stakeholders in the Risk Management Process
Often, managers and IT staff overlook employees from other departments as well as other stakeholders when undertaking IT planning and risk management. What many people fail to understand is the fact that these stakeholders offer a unique perspective that can fortify your risk management strategy all the more. Their insights on areas where risks might occur can help you identify weaknesses in your policy.
3. Get People to Commit Themselves
At each stage of your company's IT risk planning and management process, ensure that relevant stakeholders commit themselves to ensure that the strategy gets fully implemented. By getting sign-offs, you bring everyone on board, thus making it easier for you to safeguard your IT infrastructure from potential risks.
In today's corporate world, IT infrastructure is integrated into all your business processes. Since it touches on literally all aspects of your business, there's great significance in mitigating risks that face your IT infrastructure. One thing that makes strategic IT planning and risk management cumbersome is the fact that technology changes almost overnight.
To fully mitigate your risks, there's a need to keep yourself up to speed with software, apps, and hardware, and any integrations in-between them. Likewise, you should work with employees who are willing to ensure that your IT infrastructure is safeguarded against all types of risks.
Compliance should also be a matter of great concern because managing IT risks primarily involves safeguarding company and personal data. Therefore, you need to stay apprised and compliant with ongoing regulations.
Other Small Business Advice You Might Enjoy