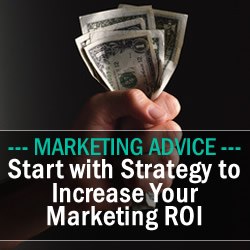 Facebook, Twitter, Pinterest, Google Plus, Google Adwords, blogging, video blogging, public speaking, email marketing, SEO….. The list of all of the things you "should" be doing to market your small business goes on and on. And if you're like most small businesses, your resources are limited and the laundry list of marketing musts is overwhelming. So how do you decide how to best invest those limited marketing resources?
In my experience, many small businesses do very little planning and strategizing. Instead, they jump on the latest tactics – do a bunch of things badly at best, and then throw up their hands in frustration, because they don't know what, if anything, they're getting for their efforts. I know, because I've been there myself. And I've thought, there's got to be a better way, right?
Good news, there is! It involves taking a step back, putting aside time to work "on" your business, evaluating your position and your goals, and planning a strategy to get you there.
First, start by asking yourself some questions.
What is my big goal for the year? This usually involves growth. If so, be specific – how much do you want to grow? (And don't say "a lot!") Give a measurable number – either in percentage growth or an actual dollar or customer base figure. Make sure you make a note of where your numbers are today, so you can measure your results.
What is my best strategy to achieve that goal? For example, if your goal is to grow your revenues by 25%, there are a number of ways you can do that. You can expand your share of your current market by selling your existing products and services to new customers, you can sell new products and services to your existing customers, you can raise your prices and keep your volume of sales the same, etc. If you understand your strategy, then the appropriate tactics will become more obvious.
Who is my ideal client and target market? The more specific you can be about this, the easier it is to reach them.
Where does my target market hang out? This question is key. I have a colleague whose target market is engineering firms. Despite the fact that the whole world seems to be on Facebook and Twitter, she doesn't waste her time there, because her target market – owners of engineering companies, don't tend to spend time on those platforms. But there is a trade magazine that they all read, and she got herself a column writing for that magazine.
Once you answer the questions above, pick 2 -3 marketing tactics that fit with your goals and your target market, come up with a measurable plan, and devote the time and energy to do them really well. It helps to map out what you will do with each tactic each month. If you are writing, create an editorial calendar.
It is also crucial to understand what you want to get out of each tactic that you employ. For example, if you invest in a "pay-per-click" campaign, then your goal might be to convert a specific percentage of your clicks into paying customers. Make sure you track whether or not this tactic is profitable for you. If you are posting on Twitter, your goal could be to increase traffic to your blog by X% and add a certain number of subscribers to your email list. If you are clear about your goals for each tactic, and keep track of your results, then you will be able to tweak your strategy as you go forward, and get better and better at reaching your target market both efficiently and effectively.
Other Small Business Advice You Might Enjoy