Drive more traffic to your website
Learn the major steps within a typical SEO campaign
Implement the tactics and strategies working in 2019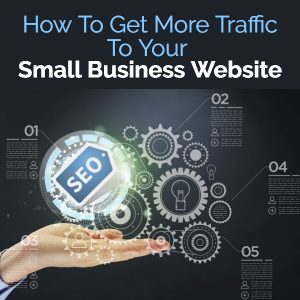 There's more than one way to get traffic to your site, but how do you know what will make the most impact on the number of visitors your site? Are you getting enough exposure on the first page of results? Where does the bulk of your traffic come from?
Setting up your website to be an income producing asset is a process that requires a lot of planning and adjusting. Having the right mind-set and a strong awareness of what needs to be done will accelerate your sites development towards generating higher levels of traffic and acquiring new clients.
Analytics
To some this may sound like a no brainer, but if you don't have Analytics or some sort of tracking software installed on your website, stop reading this and do it now. It's impossible to know how to improve the performance of your website if you don't know how it's currently performing. You can connect your site and start tracking data immediately.
Analytics is probably one of the most comprehensive systems for tracking the website data. Apart from just monitoring the volume of traffic your site receives you can look deeper into the behaviour of the visitors that arrive on site. You can see where they came from, what page they landed on, how much time they spent and how many pages they clicked on.
There should be an ultimate goal for a visitor that lands on your site. Whether it is to make a sale, fill out a form, call your business or send an email. All of these goals can be set up and tracked to see how well you site is achieving conversions.
Goal setting
The purpose of setting a goal at the start of a campaign is to make yourself accountable and to keep you on track when putting your entire project together. A well-documented goal will remind you how you should be prioritizing by keeping things in perspective and benchmarking progress along the way.
Site audit
Before undertaking any SEO campaign or project, you would be well advised to perform a site audit. In order to generate accurate data on your campaign efforts you want to make sure that there are no site errors or core SEO issues that will affect your results.
There are a lot free tools out there that will help you identify whether your site is generating any major errors that could affect your ranking. Sitechecker is one of many options that will help you to improve your websites overall SEO. Crawl your site and eliminate any possibility of losing ranking mid-campaign from a non-related or pre-existing issue with your website.
Identifying search terms
The search terms you choose should be long-tail keywords that are highly targeted to driving traffic that matches your offering. The search term you target will ideally incorporate a more competitive broader keyword as a long-term goal as well as the longer phrase for the short term win.
Choose the best option for your seed keyword by listing as many variations of what your ideal client is typing in a search. Use each keyword to create a report on the keyword tool of your choice. Eliminate any unrealistic terms in which the difficulty is too high. Choose the best fit by balancing the volume, commercial value and difficulty.
There will probably be a few options that would make a good fit for your business. Type them in to a Google search. You will want to look at the PAA box (People Also Ask) for the related questions that are listed because they are examples of what people are regularly using as search terms. Write them down.

You will also want to scroll down and take notes on what Google lists in the "Searches related to" box. Click on those searches to get more ideas for long-tail search terms.

Another approach to creating a long-tail keywords is to use your keyword in a questions using who, what, where, when, why and how. Answer The Public is a website that will do this for you by simply punching your keyword in the search box. This site will also pair your keyword in combinations popularly used to give you more ideas on what people are commonly searching.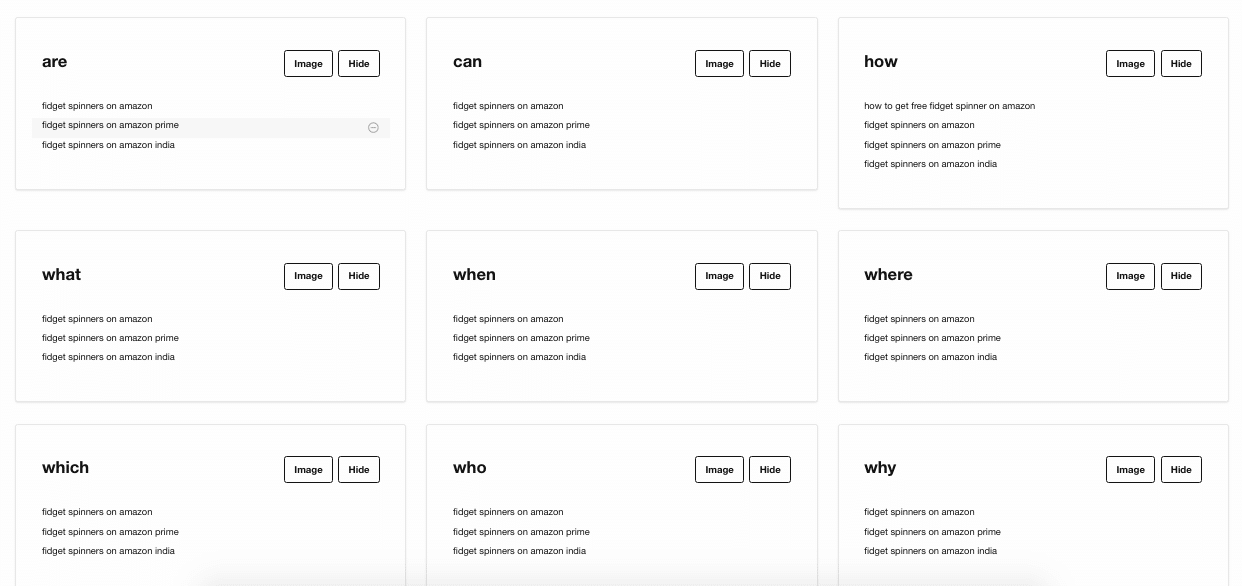 Going through each of these steps will leave you with at least a page of options. Sort your options according to search intent. You need to group your results based on the main purpose of the page you're building.
Although you may be targeting one keyword or your title, this process uncovers many related topics that will serve to satisfy search intent by including them in your content.
Content
Your keyword research is a precursor for writing high-quality content. The options you uncover in your keyword research will lead you to many related topics and questions that users are looking for when searching your keyword. The ultimate goal is for you to effectively satisfy search intent by providing content that covers the topics related to the search.
To truly make outstanding content it has to be better than what is currently ranking. At some point your will need to take notes on what is currently ranking to make sure your page has covered those topics and more.
Most pages that rank are filled with images, video, infographics or some form of media to engage the audience. Video has proven to boost engagement statistics. It is highly recommended to include a video, especially when you consider the fact that it gets the most shares on social media. A video is six times more likely to be retweeted than tweets with any other forms of media.
Your goal is to outperform your competition in every way possible. Cover all aspects of search intent through keyword research and deliver your content in the most engaging way possible to see the best results.
Link building
When you have something amazing to offer in terms of content, you need to let people know about it. How else will your page acquire backlinks if you aren't actively pursuing them?
The simplest start is to make a list of the potential candidates that would likely link to your page. One way to come up with a list of prospects is to run a backlink report on your competitors. If the websites linked to them there's a good chance they will link to your page as well.
Using Moz Link Explorer, enter the URL of your competitor's page and hit search. You'll get a report showing all of the links that point to that particular page.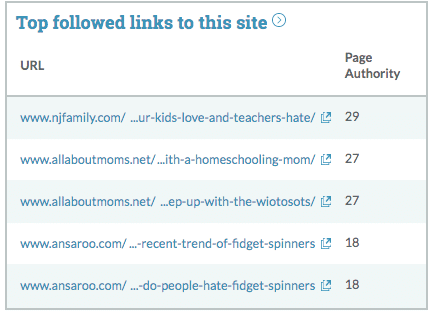 Each line is clickable, so explore each option to see what type of link was given and whether it's possible to go after the same link for your website.
Contact the Webmaster to let them know how you really enjoyed their content. Let them know you have published an article that has more updated content and would be a good fit for their site.
There is the possibility that the links your competitor received were from guest posting sites. If this was the case, look for the position of the link in the article. Is the link in an author by-line? Or is it a contextual link within the body of the content? Contextual links have more value than links in an author bio since the higher link position means more link juice.
In either case, you will need to write and submit an article to the publishing site. When you link to your page within the article make sure you use a long phrase as anchor text to reduce any potential algorithmic penalties. Optimized anchor texts will raise suspicion and may do more harm than good.
You can increase the authority of your page by continuing the guest posting process until you have more links than the pages that are currently ranking.
Social
Traffic generation and a social network go hand in hand. If you have a large network of followers on social media you can drive instant traffic to your site with the push of a button.
Build your network by being active and maintaining a presence. Don't just be a robot and post articles. Comment on other profiles, share other people's content and get as many people to like and share your work as possible. The more people you can send to your website, the higher the possibility is that people will link to your site.
Conclusion
Developing your site to become an income-producing asset is not a quick process. Every project presents different challenges and problems to solve, but having the right fundamentals in place makes for a much easier workaround. Set goals, monitor your performance and keep making the necessary adjustments in the SEO for your small business. The long-term goal to drive more traffic and acquire new clients.