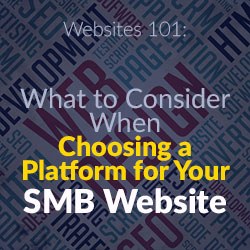 A strong online presence has never been more vital for small and medium-sized businesses. 80% of consumers now research online before making a purchase, and 85% use the Internet to find local businesses.
Consumers aren't just window shopping online, either. The U.S. Commerce Department estimates that $304.9 billion of goods were purchased online in 2014. And, according to a recent survey by investment and accounting firm BDO, nearly four out of five large retail businesses expect nearly 10% growth in their e-commerce sales in 2015.
So, if we all agree that having a website is necessary for a thriving business, what's holding SMBs back from getting online? From the research we've done here at 99designs (through a recent survey of 900+ SMBs), there are a few common challenges SMBs face in getting a website up and running, including:
Deciding on a design (3.42 difficulty, based on a scale of 1-5)
Finding the time to get it built (3.41)
Amount of effort required (3.32)
Figuring out what features are needed (3.11)
In addition to the above, one of the first challenges SMBs face in getting started is in figuring out which platform to choose for their website – i.e., WordPress, template, custom HTML/CSS, etc.
Our survey found that of those SMBs that had a website:
37% used WordPress
23% used templates on a host site (GoDaddy, Wix, Weebly, Squarespace, Jimdo, etc.)
15% employed a custom HTML/CSS solution
6% went with an eCommerce solution (Magento, Shopify, Big Commerce, etc.)
A large contingent of small businesses who chose WordPress to build their website said that they did so due to ease of use and the platform's high level of customizability. WordPress' popularity is also in some ways self-perpetuating – since so many people use it, it's easy to find plugins, templates, answers to questions about how to use the platform, and professionals who know how to work with the platform.
That said, WordPress isn't the perfect solution for every small business. More than a quarter of WordPress users that we surveyed wished it was easier to make changes to their site, while 25% wanted more features, and 21% wished their sites loaded more quickly.
Fortunately, if the features offered by WordPress don't suit your business, there are other viable options to choose from.
Choosing a Web Platform for your Small Business
Here's what you need to consider when choosing a website platform:
Your intended use: Will you be selling products, sharing company information, displaying artwork, collecting sales leads, etc.? Choose a platform with features that suit your needs.
Learning curve: How difficult is it to set up a website using the platform? If your available skill set doesn't match the platform's difficulty level, factor in the need to hire help or the time necessary to learn how to work with the platform.
Pricing: Consider the cost of building the site and your budget, whether you'll need to hire help to set up and maintain the site, and any fees that might be associated with using the platform.
Customization options: Do you want to be able to customize the design to reflect your brand? Will you need to add features via plugin programs? If so, look for platforms that fully support customization.
Coding/development help: Setting up a website on some platforms requires moderate to advanced technical skills.
Edit/update ease: Can you easily update information on the site, or will you need help? WordPress and template sites are easy to modify, but a custom website may be more challenging.
Analytics: Does the platform provide you with data on who is visiting your site, how often, and when? Analytics information can help you understand your market more accurately.
Check out the following chart to make a decision about which platform to choose for your website.

Making a Decision
Start with what your company needs – whether it be a simple website to communicate information about what you do, or something far more complex, like a full ecommerce solution. Think about the best option for your budget, and give some thought to what features and functionality you might need in the future to help ensure your business' long-term success. If you know you'll want to sell products online, for example, you may opt to start with a WordPress site, knowing you can add the ecommerce functionality later.
One final consideration: Nearly half (46%) of web users say a website's design is their number one criterion for determining the credibility of a company – make sure your company's design stands out among the rest.