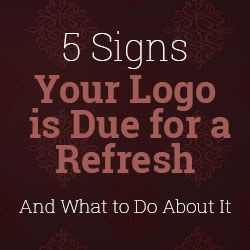 A logo is the single most important visual representation of your business.
A well-designed logo quickly conveys your core values and product or service offerings. It resonates with your target audience and sets you apart from the competition. It compels people to check you out, and hints at what clients and customers can expect from you.
Yet even the most well thought out logo can lose luster over time. If any of the following points apply to you, it might be time to think about refreshing your brand.
Your logo is out of date: Logos should be timeless. If you look at companies like Coca-Cola or the works of Milton Glaser, you'll find many of their designs still stand strong today, often nearly a century after their original conception. An out-of-date logo can give the impression that your company is behind the times, which can hurt business in today's swiftly modernizing, digital world. A simple first step is to put your brand next to others in your space. Does it look dated to you?

Example: Southwest Airlines has positioned itself as an affordable, relaxed, and customer-centric airline brand, and is considered one of the most well-liked airlines in the United States—no easy feat in the much-reviled industry. Still, the company's previous logo was overly literal—with an image of a plane flying over the company name, it looked stodgy and out of date. After partnering with an agency to revamp their brand, they set themselves apart by blending a wordmark with a heart icon that speaks to their customer-centric philosophy. It's fresh, it's new, and it's something you don't see with any other airline.
Your products and services have expanded: Many businesses start small, with a singular focus, and later expand their offerings based on experience, customer feedback, and market needs. If your logo represents only a portion of what you do, or something that you no longer offer—regardless of whether or not it's part of your company's name or image—then it's time to adapt your brand to encompass your new focus.

Example: Starbucks started out roasting and selling coffee beans. Over the years, the chain has become known not only for their signature coffee, but also for other products, like small treats, tea, and a variety of non-caffeinated drinks. What's more, Starbucks has come to represent an experience—it's more than a place to grab your morning coffee. It's a place where you settle in, work, meet with friends, and feel at home. Taking this into account, in 2011, they dropped the word "coffee" from their logo and brought the focus back to their iconic crowned mermaid. It was still undeniably Starbucks, but no longer limited their scope.
Your target market has changed: Just like you may add new products and services over time, your customer profile can change, too. Time often forces businesses to diversify in order to keep existing customers, and to attract new, younger customers. New products may also mean a whole new set of eyes, with different demographics and experiences. Changing doesn't mean that you're leaving your core customer base behind, but that you're expanding. And an outdated logo which may once have worked for a specific set of customers might not cut it anymore, and an effective new design can show the world that you're changing for the better.

Example: The Mail Center was founded in 1981, and their original logo was designed on a typewriter. Their loyal customer base included middle and upper-middle class professionals aged 40 and up. In changing their image, they needed to retain their original customers, but also attract younger clients. A savvy designer was able to refresh the brand while staying true to their offerings and core values, which prevented them from alienating preexisting customers.
Your brand values have shifted: While many businesses retain their core values for many years, times change. You may move, target new audiences, bring in new people, change your scope, or develop a new personality. It's also possible that your existing logo fails to capture the essence of your business, and perhaps you're realizing that it never did.

Example: The event-planning company Ruby hosts weddings and corporate events, and while they still love the logo they originally designed themselves, they came to realize it didn't accurately represent the brand. With a venue that mixes historic, contemporary, and industry design, they needed a brand that reflected their eclecticism and professionalism. Subtle shading also brings in an industrial element, making the logo appear to be stamped on a metal sheet.
You're changing locations: Moving a business is a perfect opportunity to reassess your logo. New logos often look and feel great when they're first rolled out, especially in the excitement of a move. Still, challenges rise as time goes on, and the design might not appeal to the demographics in a new neighborhood, or may not pull together your business as effectively as possible, especially because changes in location are often coupled with a change in values.

Example: Secret Sandwich Society reached out to 99designs as they were opening their second location. They wanted to reconsider their logo, now that they had a wider audience, and found their old logo too complex and uneven. Its style hearkened back to Starbucks' and Apple's first logos, with too much detail to reproduce at smaller sizes. Its dull gray-blue was also hard to match. Their new logo carries the same sense of heritage and mystery, but with a fresh and modern aesthetic. It's bold and simple, but it also stands out, and includes the micro logo SSS as well as a set of crossed keys – a clever nod to the organization's 'secrecy' and the original design.
Logos change with businesses and markets—it's a natural part of growth. Whether you're realizing that yours is simply behind the times or unaligned with your values, refreshing your brand help can get you back on track. And, if you need helping getting started, consider reaching out to us at 99designs as we have helped hundreds of thousands of businesses with new and refreshed branding projects.